Worship Centres To Reopen In Lagos June 19
Worship centres in Lagos State will be allowed to reopen from June 19, Governor Babajide Sanwo-Olu said while briefing journalists in Lagos on Thursday.
While mosques are to reopen from June 19, churches are to begin services from June 21.
He said hotels are allowed to reopen while gyms, night clubs, and cinemas would still remain closed, adding that the decision to reopen them would be reviewed in the next two weeks.
Sanwo-Olu said, "There will now be restricted openings of religious houses based on compliance that we have seen and reviewed with the Safety Commission.
"From 14 days time, precisely on the 19th of June for our Muslim worshippers and from the 21st of June for our Christian worshippers, we will be allowing all of our religious bodies to open at a maximum of 40% of their capacity and we'll be working with them as being expected by the Lagos State Safety Commission.
"But we know that these places of worship have different sizes but even if your 40% capacity is really so large, you cannot have beyond 500 worshippers at once, and keeping that maximum 40% capacity is really important.
"We will be encouraging people to have more than one service and ensure that they keep their premises clean, disinfect before another round of worship can take place.
"We will also be advising that there should only be mandatory Fridays and Sunday services. All other night vigils and services must be put on hold for now until we review our current situation.
"We will also be advising very strongly that persons below the age of 15 because of how well they walk around and difficult to hold down should be excused from the places of worship and citizens that are above the age of 65 should not be allowed into these places of worship.
"We will also advise that there should be no food sharing and communion from a common dish should be discouraged during this period.
"Sharing of kettles during ablution should be avoided, prohibited if possible.
"We also encourage the use of stationary collection boxes and electronic payments."
The governor said religious leaders should ensure that worshippers wear face masks, maintain social distancing and high-level hygiene, noting that state government officials would visit churches and mosques unexpectedly and those found not complying would be dealt with.
Nigeria Needs N1trn For Efficient Electricity Transmission – TCN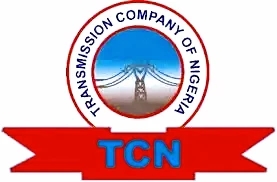 By Agency Report
The Transmission Company of Nigeria has said Nigeria requires nothing less than N1tn to effectively wheel electricity through the national grid.
The Executive Director, Transmission Service Provider, TCN, Victor Adewumi, said this at the 52nd Power Dialogue of the Nigeria Electricity Hub on which held online in Abuja on Wednesday.
He said TCN would require the sum to make the country's power grid stable, adding that the $1.6bn which the transmission company was getting from international agencies would not be enough to stablilise the grid.
When asked to state how much would be needed to get the grid to transmit electricity effectively, Adewumi replied, "Simply put, TCN requires nothing less than N1tn to make the grid to be very stable.
"For the project that TCN is financing internally, relying on our IGR (Internally Generated Revenue) and the Federal Government budget system, TCN requires nothing less than N600bn. way that even the Federal Government can provide this kind of fund."
He said investors were invited to come and fund some of the projects in TCN, as they would recoup their investments over time.
Adewumi said, "So the alternative way is to look at project financing, where those who have the money can come to TCN and finance probably the transmission lines and then look at the cost of energy to be wheeled on that line, spread it over a period of time and then get their money back.
He said, "But with the current kind of fund that is entering TCN, there is no way TCN can embark on that.
"This is because the Discos are not giving us the required money; we are getting less than 60 per cent of TCN tariff.
He added, "That is even after the Nigerian Electricity a Regulatory Commission forced them to do it."
He, however, stated that the Discos would not receive all the blame as many power users were involved in electricity theft.
Nigeria Ranked 3rd Most Terrorised Country Worldwide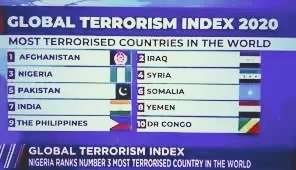 Nigeria has been ranked third most terrorised country in the world by the Global Terrorism Index (GTI) report, which stated that death attributed to Boko Haram in Nigeria increased by 25 percent from 2018 to 2019.
According to the report, "Nigeria had the second largest fall in total deaths, owing largely to a 72 percent reduction in fatalities attributed to Fulani extremists.
"Despite this decrease, the number of deaths attributed to Boko Haram increased by 25 percent from 2018 to 2019.
"Renewed activity by Boko Haram in Nigeria and neighbouring countries, including Cameroon, Chad and Niger, remains a substantial threat to the region."
The report added that: "In 2019, Boko Haram carried out 11 suicide bombings causing 68 fatalities. Suicide bombings accounted for 6% of all terror-related incidents by Boko Haram in 2019, marking an 89% decline from their peak in 2017.
"Boko Haram was responsible for Nigeria's deadliest terrorist attack in 2019 when assailants attacked a funeral in Badu, Borno State.
"At least 70 people were killed and 10 others were wounded in the attack and ensuing clash.
"The two main factions of Boko Haram, the Islamic State West African Province (ISWAP) and the followers of Abubakar Shekau, are both engaged in an insurgency campaign against the Nigerian government.
"Violence by the two main factions of Boko Haram have taken a large toll on the civilian population, particularly in the North-East, where continued attacks have internally displaced more than two million people and caused a further 240,000 Nigerian refugees to flee to neighbouring countries."
FG Receives Repatriated 600-year-old Ife Artefact 
The Minister of Information and Culture, Lai Mohammed received the repatriated Ife Terracotta from the Minister of Foreign Affairs, Geoffrey Onyeama, in the company of the Ambassador of the Kingdom of the Netherlands to Nigeria, Harry van Dijk on Thursday in Abuja.
The Minister said the return of the stolen Ife Terracotta marked a milestone in Nigeria's efforts at pursuing the return of the country 's antiquities.
Segun Adeyemi, Special Assistant to Lai Mohammed, quoted the Minister as saying the government's resolve to seek the repatriation of the nation's timeless and priceless artifact was strengthened by the President Muhammadu Buhari's marching order for Nigeria to tap into tourism and other fields, where Nigeria has comparative advantages, in order to generate income for the nation and secure jobs for our youths.
Mohammed said, " It gives me profound joy to receive this very important antiquity, an Ife Terracotta , which is dated to be at least 600 years old . I am even more delighted that our efforts at pursuing the return of Nigerian antiquities , which we launched last November , have started yielding
fruits .
" One way of generating income for the country is if our cultural properties are exhibited around the world to a fee -paying audience, on the basis of proper agreement that acknowledges us as owners and confers the right benefits on us. But this is not possible for as long as most of them adorn the museums and private collections of others , who describe them as their properties. "
While describing the handing over of the artifact as a new beginning, the Minister said apart from the pecuniary benefits , the priceless objects wrought by the nation 's forebears are unifying factors among the diverse cultures in the country .
He said the Ife Terracotta was smuggled from Nigeria through Ghana to The Netherlands in 2019 with a forged document.
The Minister of Information and Culture said following the interception of the artifact by the Dutch Customs at Schiphol Airport in The Netherlands , Nigeria was invited to prove her case against the suspected smuggler , which the country did successfully , hence the return of the artifact .
" Let me state here that Nigeria believes in joint international efforts to put a stop to illicit export and import of cultural goods . The issue of cultural property should not be a ground of rancour and discord among nations . That is if nations choose to tow the path which the Kingdom of The Netherlands has chosen by insisting on justice , fairness , and amity . "
Onyeama thanked The Netherlands for the efficient and expeditious manner in which it deployed resources to identify , retrieve , and repatriate the Ife Terracotta to Nigeria .
Harry van Dijk said the return of the artifact is a fitting gift to mark the 50 th anniversary of the UNESCO Convention on the Prevention of Illicit Trafficking of Culture Heritage, of which Nigeria and The Netherlands are signatories .
The Director- General of the National Commission for Museums and Monuments, Prof . Abba Isa -Tijjani, has taken custody of the artifact for cleaning and treatment at the Conversation Laboratory before its eventual display to the public.