COVID-19: Ooni, ABUAD Partner On Research For Drugs, Vaccines
Arole Oodua & Ooni of Ife, Ooni Adeyeye Enitan Ogunwusi (Ojaja II) is partnering with ABUAD-Afe Babalola University, Ado Ekiti on clinical research aimed at developing drugs and vaccines for viral infections with special focus on Coronavirus pandemic.
Ooni Ogunwusi made this known at his Ile-Oodua palace on Monday while receiving reports from his Clinical Research Team.
The Ooni of Ife, Ooni Adeyeye Enitan Ogunwusi (Ojaja II) after the donation of the motorized modular fumigator to Ekiti State on Thursday, April 30th, 2020 paid a courtesy call on Founder of the Afe Babalola University, Ado Ekiti, Ekiti State, Aare Afe Babalola to discuss further on moving health of the nation forward.
Ooni Ogunwusi after the presentation of the locally designed motorized modular fumigator to the university poured encomiums on the founder for his great interest in education and health and described the legal luminary as a rare asset to the continent of Africa.
"Baba Afe Babalola at the age of over 90 is still very committed to the greatness of Africa, Nigeria is indeed blessed to have him and I am particularly blessed to have him as a descendant of Oduduwa. He has already invested millions of dollars in the ABUAD College of Medicine which is very outstanding in Africa and he is currently making great efforts to upgrade his Laboratory to Level 4 Biosafety that can handle very sensitive and other deadly infections like COVID-19.
"There is a need to develop joint clinical research on drugs and vaccines from plants/herbs to fight the Covid-19 infection with its peculiarity in the black race. With this, lots of vaccines to prevent sensitive and deadly infections will be rolled out for use globally. This is unprecedented! May the Almighty Olodumare keep this Baba Afe Babalola for us," Ooni said.
Ooni who doubles as Spiritual Head of the Oduduwa Race Worldwide and Co-Chairman, National Council of Traditional Rulers of Nigeria (NCTRN) used the occasion to call on the Nigerian government and wealthy people in the country to support the university researchers and partner on massive industrial revolution that will enable internal solutions to national challenges.
"It is very shocking that many professors have found solutions to sickle cell disease and other ailments in Nigeria but received no support for research from the government.
"We must look inward and solve our problems by ourselves. There is no need for our government officials and wealthy ones to go abroad for medical checkups. They should rather focus their resources on making Nigeria medical system work better," Ooni said.
"Now that the House of Oduduwa under my watch and Afe Babalola University are about to start aggressive clinical research against all deadly diseases including Covid-19, it is about time we stopped looking up to the foreigners to solve our problems for us.
"It is so marvellous, what else do we want? With the ABUAD Multi-System Hospital and research facilities in place, we do not have to go outside Nigeria again for solutions to our medical problems.
Ooni Ogunwusi added that YEMKEM Herbal Therapy, a Lagos based globally recognised African Medicine experts has been a reliable partner in the mixtures of herbal solutions. The herbal solutions will be unveiled soonest and forwarded to National Agency for Food and Drug Administration and Control (NAFDAC)/ Pharmaceutical Society of Nigeria (PSN)/National Institute for PharmaceuticalResearch and Developmenthoping they will review and respond to us very promptly.
The herbal formulations will eventually be taken a step further for vaccine development with the partnership with research groups in ABUAD and availability of clinical & laboratory research facilities.
"I rejoiced because the facilities will enable our herbal solutions to go through the clinical rigours and transforming it to be internationally acceptable.
"The research on the Herbal Mix right now have started and Dr Akintunde Ayeni of YEMKEM Herbal Therapy and us have been working assiduously on these herbal solutions
"Recently, I proffered some mix solutions which I inherited from this throne as the custodian of the cultural heritage of the Oduduwa race. A team of four from the research unit of the House of Oduduwa Initiative which includes Professor Esimai presented the mixture to the founder of ABUAD, Aare Afe Babalola who immediately constituted a research group to develop drugs and vaccines from the herbal mixture.
"ABUAD Teaching Hospital is 2nd to none. This is a major breakthrough, another interesting thing in Alternative Medicine(Herbal world).
I just thank God for Baba Afe Babalola who is now challenging younger professors
"With this, we now have solutions to vaccines. Vaccines of COVID-19 and several alternative medicines in clinical ways, Ooni added.
Prof Olapeju Esimai in her report thanked the Ooni for the opportunity given her and the research team in House of Oduduwa Initiative to work with Afe Babalola University's medical research team on drug and vaccine development from the herbal mix made from calcium salts and processed leaf plants.
Professor Esimai also stated that the team was introduced by Chief Afe Babalola to the Provost of College of Sciences at the university, Prof Abiodun Ojo. The ABUAD research groups on the drugs and vaccine development include Prof Abiodun Ojo, Prof Okiki (microbiologist), Prof Onasanya (molecular biologists ), Prof Sanya ( Provost of College of Medicine & Clinician who has worked on local herbs), a great number of researchers, laboratory technologists and graduate students. The research group held the inaugural meeting on May 6th, 2020 and since then series of meetings have been held and work is in full progress.
Prof Esimai who made a brief presentation at the inaugural meeting informed the research group that the herbal mixture have been used on people with symptoms suggestive of covid19 infection and there have been remissions of the symptoms within few days. However, for wider and continued use, the mixture needs to be compounded into drugs and vaccine need to be developed.
"The drug and vaccine development are in phases, the first phase is drug development. This entails analysis of the mixture for microbial, mental, photochemical, chemical characterisation, toxicity, pharmacological and medicinal property classification.
"The second phase according to her which is the vaccine development will involve animal experiments to derive antibodies to the introduction of recombinant protein antigens of different viruses. These experiments will take place in the laboratory which is about level 4 Biosafety. While the third phase is the clinical trials," she said.
Professor Olapeju Esimai, a Public health Physician, a public health consultant to WHO, UNICEF and many other international health agencies, also current Head of the Community Health Department, Obafemi Awolowo University Teaching Hospital, Ile-Ife said the members of the research group were so enthusiastic and as such work has commenced immediately.
Founder of ABUAD, Aare Afe Babalola who had earlier received the Ooni's Research Team in his office praised the African foremost monarch for his partnership with the university, describing him as a great monarch with visionary leadership, promising his best to make the research a huge success.
"I have already dedicated my life to humanity. What else Am I looking for in this world? God has been so kind to me, that's why I must be so kind to humanity too. Even if I have to increase the laboratory from Level 4, I will do so without any hesitation, so that this partnership can be a huge success.
"All my life has been challenging, I never saw the 4 walls of the university but I have several university degrees.
"It is my happiness that Arole Oodua Ooni of Ife has visited us to see what we have here at Afe Babalola University in Ado Ekiti and he (Ooni) is impressed. He is a great African king with visionary and pragmatic leadership," Afe Babalola said.
Nigeria Needs N1trn For Efficient Electricity Transmission – TCN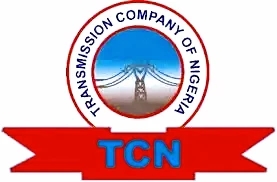 By Agency Report
The Transmission Company of Nigeria has said Nigeria requires nothing less than N1tn to effectively wheel electricity through the national grid.
The Executive Director, Transmission Service Provider, TCN, Victor Adewumi, said this at the 52nd Power Dialogue of the Nigeria Electricity Hub on which held online in Abuja on Wednesday.
He said TCN would require the sum to make the country's power grid stable, adding that the $1.6bn which the transmission company was getting from international agencies would not be enough to stablilise the grid.
When asked to state how much would be needed to get the grid to transmit electricity effectively, Adewumi replied, "Simply put, TCN requires nothing less than N1tn to make the grid to be very stable.
"For the project that TCN is financing internally, relying on our IGR (Internally Generated Revenue) and the Federal Government budget system, TCN requires nothing less than N600bn. way that even the Federal Government can provide this kind of fund."
He said investors were invited to come and fund some of the projects in TCN, as they would recoup their investments over time.
Adewumi said, "So the alternative way is to look at project financing, where those who have the money can come to TCN and finance probably the transmission lines and then look at the cost of energy to be wheeled on that line, spread it over a period of time and then get their money back.
He said, "But with the current kind of fund that is entering TCN, there is no way TCN can embark on that.
"This is because the Discos are not giving us the required money; we are getting less than 60 per cent of TCN tariff.
He added, "That is even after the Nigerian Electricity a Regulatory Commission forced them to do it."
He, however, stated that the Discos would not receive all the blame as many power users were involved in electricity theft.
Nigeria Ranked 3rd Most Terrorised Country Worldwide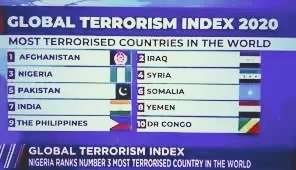 Nigeria has been ranked third most terrorised country in the world by the Global Terrorism Index (GTI) report, which stated that death attributed to Boko Haram in Nigeria increased by 25 percent from 2018 to 2019.
According to the report, "Nigeria had the second largest fall in total deaths, owing largely to a 72 percent reduction in fatalities attributed to Fulani extremists.
"Despite this decrease, the number of deaths attributed to Boko Haram increased by 25 percent from 2018 to 2019.
"Renewed activity by Boko Haram in Nigeria and neighbouring countries, including Cameroon, Chad and Niger, remains a substantial threat to the region."
The report added that: "In 2019, Boko Haram carried out 11 suicide bombings causing 68 fatalities. Suicide bombings accounted for 6% of all terror-related incidents by Boko Haram in 2019, marking an 89% decline from their peak in 2017.
"Boko Haram was responsible for Nigeria's deadliest terrorist attack in 2019 when assailants attacked a funeral in Badu, Borno State.
"At least 70 people were killed and 10 others were wounded in the attack and ensuing clash.
"The two main factions of Boko Haram, the Islamic State West African Province (ISWAP) and the followers of Abubakar Shekau, are both engaged in an insurgency campaign against the Nigerian government.
"Violence by the two main factions of Boko Haram have taken a large toll on the civilian population, particularly in the North-East, where continued attacks have internally displaced more than two million people and caused a further 240,000 Nigerian refugees to flee to neighbouring countries."
FG Receives Repatriated 600-year-old Ife Artefact 
The Minister of Information and Culture, Lai Mohammed received the repatriated Ife Terracotta from the Minister of Foreign Affairs, Geoffrey Onyeama, in the company of the Ambassador of the Kingdom of the Netherlands to Nigeria, Harry van Dijk on Thursday in Abuja.
The Minister said the return of the stolen Ife Terracotta marked a milestone in Nigeria's efforts at pursuing the return of the country 's antiquities.
Segun Adeyemi, Special Assistant to Lai Mohammed, quoted the Minister as saying the government's resolve to seek the repatriation of the nation's timeless and priceless artifact was strengthened by the President Muhammadu Buhari's marching order for Nigeria to tap into tourism and other fields, where Nigeria has comparative advantages, in order to generate income for the nation and secure jobs for our youths.
Mohammed said, " It gives me profound joy to receive this very important antiquity, an Ife Terracotta , which is dated to be at least 600 years old . I am even more delighted that our efforts at pursuing the return of Nigerian antiquities , which we launched last November , have started yielding
fruits .
" One way of generating income for the country is if our cultural properties are exhibited around the world to a fee -paying audience, on the basis of proper agreement that acknowledges us as owners and confers the right benefits on us. But this is not possible for as long as most of them adorn the museums and private collections of others , who describe them as their properties. "
While describing the handing over of the artifact as a new beginning, the Minister said apart from the pecuniary benefits , the priceless objects wrought by the nation 's forebears are unifying factors among the diverse cultures in the country .
He said the Ife Terracotta was smuggled from Nigeria through Ghana to The Netherlands in 2019 with a forged document.
The Minister of Information and Culture said following the interception of the artifact by the Dutch Customs at Schiphol Airport in The Netherlands , Nigeria was invited to prove her case against the suspected smuggler , which the country did successfully , hence the return of the artifact .
" Let me state here that Nigeria believes in joint international efforts to put a stop to illicit export and import of cultural goods . The issue of cultural property should not be a ground of rancour and discord among nations . That is if nations choose to tow the path which the Kingdom of The Netherlands has chosen by insisting on justice , fairness , and amity . "
Onyeama thanked The Netherlands for the efficient and expeditious manner in which it deployed resources to identify , retrieve , and repatriate the Ife Terracotta to Nigeria .
Harry van Dijk said the return of the artifact is a fitting gift to mark the 50 th anniversary of the UNESCO Convention on the Prevention of Illicit Trafficking of Culture Heritage, of which Nigeria and The Netherlands are signatories .
The Director- General of the National Commission for Museums and Monuments, Prof . Abba Isa -Tijjani, has taken custody of the artifact for cleaning and treatment at the Conversation Laboratory before its eventual display to the public.