EPL: I Have Run Out Of Ideas, Says Arteta
Mikel Arteta joked he had "run out of ideas' when it came to fixing Arsenal's disciplinary issues after his side earned a hard-fought 1-0 win over Wolves, despite Gabriel Martinelli's bizarre sending off.
Gabriel Magalhaes struck from close range to break the deadlock midway through the first half and the Gunners held on to secure three points at Molineux, their third away victory on the bounce in the Premier League.
But the Gunners had to withstand a barrage of late attacks with just 10 men on the field after Martinelli was shown a red card for a pair of bookable offences in the same passage of play with 20 minutes remaining.
Martinelli's first yellow was for a push on Daniel Podence and his second came after a foul on Chiquinho just seconds later while Wolves broke forward with pace in search of an equaliser.
Arsenal have now had four squad members sent off in 2022 – despite playing just six games since the turn of the year – and Martinelli's red card is the 15th since Arteta's tenure began, Metro UK reports.Indiscipline: Arteta 'runs out of ideas'
Mikel Arteta joked he had "run out of ideas" when it came to fixing Arsenal's disciplinary issues after his side earned a hard-fought 1-0 win over Wolves, despite Gabriel Martinelli's bizarre sending off.
Arteta was proud of Thursday's performance, especially after the sending off, but has warned his team that they must stop going a man down if they want to finish in the top four.
He told BT Sport, "It is tough enough to play against Wolves here away from home, and we made it even tougher playing again with 10 men. The result is really positive, we needed to win, but we suffered in the final 20 minutes.
"The character, how we dig in, the spirit that we showed, how they defended so many difficult situations for such a long time, I am really proud of the boys. When I talk about the unity and the togetherness in the group, this is when it comes and they showed it on the pitch.
"We need to play with 11 players in the final 16 games – that is going to be key to give us the best possible chance for us to win football matches. To win games in the Premier League is hard enough, with 10 men it is very unlikely."
AFP
FIFA To Introduce Robot Linesmen At 2022 World Cup
World boss Gianni Infantino is keen to introduce the "semi automated offside" system for Fifa's global showpiece which starts in November.
Trials of the system, which uses 10 cameras to track 29 body points of each player, took place in the Club World Cup won by Liverpool and the Arab Cup held in four of Doha's eight World Cup stadiums.
And with all the signs that the technology does work, bringing far quicker offside calls than under the current VAR line-led system, world chiefs are due to give a positive update at Monday's delayed annual general meeting of the law-making International FA Board.
The meeting is being held in Qatar, after the initial March date in Zurich was postponed as a result of Russia's invasion of Ukraine.
Fifa is understood to be ready to state there are no impediments to the full introduction of the technology.
It means that England's opener against Iran on November 21 will be only the second game in which the technology is deployed.
But a final decision will be taken by Fifa after a full analysis of the data from the trials.
Fifa referee chief, former Italian whistler Pierluigi Collina, bristles at the use of the term "robot offside".
He pointed out: "The referees and assistants are still responsible for the decision on the field of play."
Bayern, Chelsea Battle For Bassey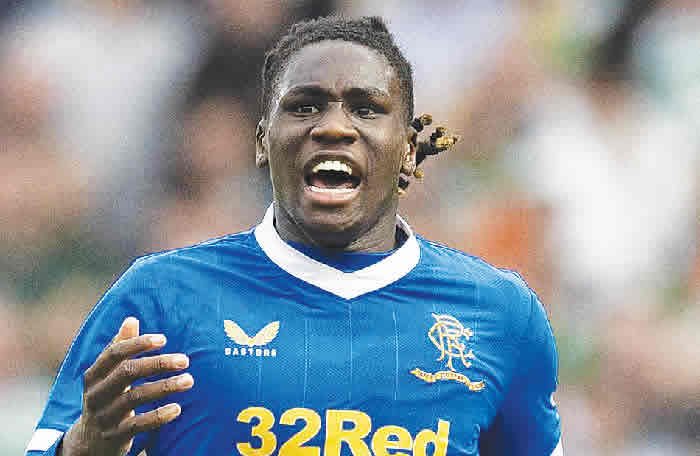 Following his impressive performance in the 2021/22 season, Glasgow Rangers defender Calvin Bassey has been linked with an exit from the Scottish giants, with Bayern Munich and Chelsea in the race for the Nigerian, PUNCH Sports Extra reports.
According to Fichajes, the two European giants are set for a fierce battle for the 22-year-old defender.
Bassey raised eyebrows with his solid performances as he helped Rangers reach the final of the Europa League, where he was named the best defender in the final, despite the Scots' defeat to Eintracht Frankfurt on penalties.
The Nigerian has a year and a half left on his current contract, which expires in 2024, but that, according to the publication, will not stop clubs coming for the defender.
"Despite having a contract with Rangers until 2024, Calvin Bassey could make the big leap in the next transfer market," Fichajes wrote.
"Bayern Munich, after confirming the departure of Niklas Süle, in addition to the arrival of Antonio Rüdiger at Real Madrid, the Bavarian team has been left without possible troops at the rear. For this reason, Calvin Bassey is presented as a possible candidate to reinforce the defensive plot.
"Chelsea are in the best position to sign the Nigerian defender. After the departure of Antonio Rüdiger, added to the more than possible departures of César Azpilicueta and Andreas Christensen, those from Stamford Bridge must urgently reinforce the defensive plot. Calvin Bassey, adapted to British football, would be a great addition."
The Leicester City academy product made a total of 50 appearances for the Gers and had six assists in all competitions.
Punc
FIFA Bans Russian National Anthem, Flag From International Games
By Agency Reporter
Fifa has ordered Russia to complete their upcoming matches without their flag, anthem and as the Football Union of Russia in neutral territory, following the invasion of Ukraine.
Several nations have announced that they will refuse to play Russia, including England, as well as Poland, Czech Republic and Sweden.
World Cup play-offs would see Russia face Poland then either the Czech Republic or Sweden if they win – and are due to be played in March.
Russian President Vladimir Putin launched a military invasion of neighbouring Ukraine on Thursday.
Fifa said talks will take place with other sporting organisations over whether Russia should be expelled from competitions.
"Fifa would like to reiterate its condemnation of the use of force by Russia in its invasion of Ukraine," world football's governing body said in a statement on Sunday.
"Violence is never a solution and Fifa expresses its deepest solidarity to all people affected by what is happening in Ukraine."
"Fifa will continue its ongoing dialogue with the International Olympic Committee, Uefa and other sport organisations to determine any additional measures or sanctions, including a potential exclusion from competitions, that shall be applied in the near future should the situation not be improving rapidly.
"Fifa's thoughts remain with everybody affected by this shocking and worrying situation.
Earlier on Sunday the Football Association announced England will not play any international matches against Russia at any level following the invasion of Ukraine.
The FA said they "wholeheartedly condemn the atrocities being committed by the Russian leadership".
English football's governing body said the boycott of matches will be "for the foreseeable future".
(BBC Sport)