NANS Applauds PenCom's Giant Strides In Pension Industry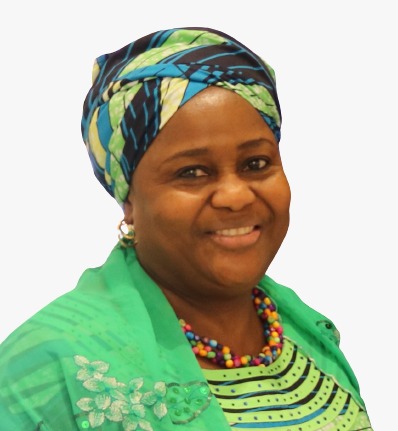 In appreciation of the giant strides being made by the National Pension Commission (PenCom) in the Nigerian pension industry, the National Association of Nigerian Students (NANS) has inducted the Director General of PenCom, Mrs Aisha Dahir-Umar, into the Association's Hall of Fame.
In addition to recognising her professional service and purposeful leadership in the pension industry, NANS also conferred on Mrs Dahir-Umar the NANS Merit Award for her contributions to national development and support for young people and students.
Speaking during the award ceremony in Abuja recently, the Senate President of NANS, Comrade Attah Felix Nnalue said NANS Merit Award is presented to individuals whose lives exemplifies the ideas of living for the sake of others and dedicate themselves to national building and service to humanity.
Comrade Nnalue said the induction of Mrs Dahir-Umar into NANS Hall of Fame and the presentation of NANS Merit Award to her were in line with the resolution of the 68th Senate Meeting of NANS held on 25th January 2023 at the University of Abuja.
He Commended the Director General for her hard work, exemplary lifestyle, contribution to nation building and the advancement of the pension industry.
Mrs Dahir-Umar has been part of the journey to reform pension administration and management in Nigeria.
Under her leadership as the Director General, PenCom has attained significant milestones in its diligent implementation of the Pension Reform Act (PRA) 2014 through the successful conclusion of several critical initiatives.
Pension fund assets have been on a sustained growth trajectory, increasing from N6.15 trillion in 2016 to N14.99 trillion as of December 2022.
Similarly, the number of registered pension contributors grew from 7.41 million to 9.86 million during the same period.
The launch of the Micro Pension Plan (MPP) by President Muhammadu Buhari in March 2019 was another significant step under her towards the promotion of financial inclusion for self-employed persons and workers in the informal sector.
In November 2020, PenCom launched the Retirement Savings Account (RSA) Transfer System (RTS). The system is an in-house developed computer Application that enables a pension contributor or retiree to switch from one Pension Fund Administrator (PFA) to another. Activating the RSA transfer provision was another essential milestone she recorded in implementing the CPS that has been on the drawing board since the advent of the Pension Reform in 2004. 
She also implemented the maiden Pension Enhancement for CPS retirees in December 2017. This initiative enhanced the monthly pensions of most retirees on the programmed withdrawal based on significant incomes earned from investment.
In 2021, the Director General oversaw the recapitalisation of PFAs. As a result, all PFAs raised their Shareholders' Funds from N1 billion to N5 billion. In 2022, the Commission issued the Guidelines on Accessing RSA Balance Towards Payment of Equity Contribution for Residential Mortgage by RSA Holders. This innovative policy will enable workers to own residential houses while in active service.
NAICOM Charges Governments To Comply With Building Insurance Laws, Lists Benefits
The National Insurance Commission (NAICOM) has advised the federal and state governments to comply with the provisions of the Insurance Act 2003 concerning the insurance of public buildings and the insurance of buildings under construction.
The Commissioner for Insurance and Chief Executive Officer of NAICOM, Sunday Thomas, who made this call on Thursday at the 12th meeting of the National Council of Lands, Housing and Urban Development in Kaduna State, advised the government to make adequate provisions for this in the annual budgets.
He said these categories of insurance are made compulsory by extant insurance laws in Nigeria and, thus, must be complied with by all.
According to him, Section 64 of the Insurance Act 2003 makes it mandatory for individuals, governments and corporate organisations that undertake the construction of any building above two (2) floors to procure a builder's liability insurance policy (building under construction) from any of the NAICOM' licensed Insurer in Nigeria.
Speaking further, he said Section 65 of the Insurance Act 2003 also makes it compulsory for all public buildings in the country to be insured. This is to protect innocent victims in the events of accidents and other disasters that may occur while they are within such premises.
Participants at the session include the Honourable Minister of Housing and Urban Development, Arc. Ahmed Musa Dangiwa; Minister of State, Housing and Urban Development, Abdullah Tijjani Gwarzo; Chairman, Senate Committee on Housing and Urban Development, Sen. Aminu Tambuwal; Chairman, House Committee on Housing and Habitat, Hon. Balele Aminu and Chairman, House Committee on Urban Development and Regional Planning, Hon. Abiante Awaji, The Permamnent Secretary, Federal Minstry of Works and Housing, Mahmuda Mamman; Commissioners, Permanent Secretaries, Directors of Lands and Housing from the 36 States of the federation; Managing Director of Federal Mortgage Bank of Nigeria, Nigeria Mortgage Refinancing Company, Shelter Afrique, etc.
Thomas urged the various state governments to emulate the Lagos State government by domesticating the insurance laws in their respective states.
He listed the benefits from compliance with these compulsory insurances to the Federal and State Governments to include the reduction in the Federal and State Government expenditure in event of disaster that may affect citizens by shifting the burden to the risk-bearers (Insurance Companies), hence restoration would not be settled from tax payer's money.
He added that compliance with these provisions of the law would create employment opportunities for citizens of their respective states, as well as provide opportunity to enhance the Internally Generated Revenue (IGR) of the states, amongst others.
Leadway To Offer Pay-As-You-Drive Insurance
By Sola Alabadan
Leadway Assurance Company Limited is partnering with Leytro to offer user-friendly, and cost-effective pay-as-you-drive insurance products tailored for fleet managers and drivers in Nigeria.
This is part of efforts to facilitate the seamless adoption of insurance products in the country.
This strategic alliance harnesses Leytro's technological expertise and Leadway's established industry knowledge to introduce a pioneering pay-as-you-drive insurance model characterised by flexibility and affordability. Fleet managers can now conveniently manage their insurance payments on the go through a dedicated mobile app underpinned by mobile telematics intelligence.
The mobile app incorporates telematics intelligence to continuously assess the driving behaviours of policyholders, offering real-time insights into their driving habits. This capability empowers businesses to optimise their fleet management strategies to seamlessly make insurance payments via the app, utilising a pay-as-you-go approach with fair premiums and incentives for safe driving.
Umashime Oguzor-Doghro, Leadway Assurance, commented on the partnership: "In today's rapidly evolving landscape driven by technological advancements, forward-thinking organisations must lead the market in evolving innovative solutions and collaborations in the ecosystem. Hence, our timely partnership with Leytro.
"We are thrilled to join forces with Leytro to introduce this innovative insurance solution for fleet managers, ensuring that car insurance is not only accessible but that premiums are built on utility and behavioural profile. The synergy of Leytro's cutting-edge technology and our unwavering industry expertise enables us to offer a transformative pay-as-you-drive insurance solution that caters to the unique requirements of small and medium-sized businesses. Together, we are reshaping the insurance landscape, revolutionising the adoption process, and setting new industry standards," she added.
Nathaniel Bubu, Founder/Chief Executive Officer of Leytro, also shared his perspective on the collaboration: "The partnership between Leytro and Leadway Assurance represents a significant milestone in harnessing technology to drive change, with a deep understanding of human behaviour. We are committed to revolutionising the insurance sector by leveraging our advanced telematics technology. This collaboration empowers us to provide businesses with a more personalized and cost-effective insurance solution, fundamentally altering the way small business owners manage their fleets."
"We strongly believe in rewarding responsible drivers, and through our cash reward programme for safe driving, we aim to incentivize prudent behavior on the road. This not only benefits drivers but also contributes to creating a safer driving environment for all road users."
In addition to its innovative approach to insurance policy adoption, this initiative strongly emphasizes delivering a seamless claims experience. Through the use of technology and automation, the claims payment process has been streamlined to ensure swift and hassle-free resolutions for customers.
Insurers Tasked To Mitigate Socio-Political Risks
By Sola Alabadan
The insurance operators in Nigeria have been charged to be alive their responsibility to mitigate the socio-political risks that can impede social progress and economic growth in the country.
Insurance stakeholders who spoke at the Education Seminar of the Chartered Insurance Institute of Nigeria (CIIN) in Port-Harcourt, Rivers State on Friday, opined that in a country like Nigeria, where socio-political challenges often intersect with economic uncertainties, the insurance industry can play a vital role in safeguarding the interests of individuals, businesses, and the nation as a whole.
The theme of the seminar is "Socio-Political Risks: The Role of the Nigerian Insurance Industry".
While welcoming to the seminar, the President/Chairman of Council, Edwin Igbiti, affirmed that Nigeria, being Africa's most populous nation and a key player in the African economy, faces an array of socio-political risks that can impede social progress and economic growth. These risks range from political instability, ethnic tensions, terrorism, civil unrest, to government policies and regulations, among others.
Igbiti, who was represented by the Deputy President, Mrs. Yetunde Ilori, added that the role of the insurance industry in addressing socio-political risks is multi-faceted.
"The insurance industry can act as a catalyst for risk prevention and reduction. By actively assessing and evaluating potential socio-political risks, insurers can collaborate with governments, businesses, and communities to develop risk management strategies and enhance resilience. Through initiatives such as risk education programs, capacity building, and partnerships with relevant stakeholders, the industry can contribute to societal awareness and preparedness, reducing the likelihood and impact of socio-political risks," the CIIN boss said.
Similarly, the Chairman, CIIN Education Committee, Mr. Olusegun Omosehin stated that in today's rapidly changing world, understanding and effectively managing socio-political risk has become more important than ever before.
He therefore advised that "Insurers should spread the gospel of mitigating risk across Nigeria, a country with a population exceeding 200 million and a diverse range of socio-political factors at play. Understanding and navigating these complexities is crucial for the sustainable growth and development of the Nigerian insurance industry."
Meanwhile, the Keynote speaker, Mr. G.U.S. Wiggle, encouraged insurers to tackle the challenges facing the industry for the purpose of opportunities therein, saying "Insurance companies can offer political risk insurance to businesses to help them manage and mitigate risks arising from the adverse actions or inactions of governments. Political risk insurance can help provide a more stable environment for investments and unlock better access to finance."
He added that the insurance companies should provide financial stability and reduce uncertainty by indemnifying those who have suffered losses.